FUNCTIONS BY THE WATER
HAVE A FUNCTION TO CELEBRATE
We can cater for every occasion. Call (08) 9791 7376 or email our Functions Team to discuss your event.
With unparalleled photographic opportunities and a wide choice of function areas, it's easy to see why The Parade Hotel is one of Bunbury's most popular function choices.  Situated on the Leschenault Inlet, the heritage listed hotel provides the perfect option for functions of all sizes ranging from casual to formal.
The fully renovated hotel offers several function areas to choose from allowing us to cater for anything from formal set menu dining to cocktail style platter services.  Views across the inlet and the city skyline offer the perfect backdrop for your event. 
The River Room and Waterfront Bar are great all year in any weather, and  the Beer Garden and Deck Area are perfect for special occasions over the warmer months. Whether it's a team-building event, a party or a formal wedding, The Parade Hotel has the options. 
With floor to ceiling windows overlooking the inlet, the River Room is perfect for large functions. Featuring its own bar and separate facilities, privacy is assured for patrons.
The River Room is great all year round and in any weather. The large air-conditioned room is cool in summer and warm in winter. Doors onto the Deck can also be opened for extra comfort and ventilation.
With tables of 8-10, this room is very popular for corporate and social functions. This area has a TV with USB input for displaying a personal slide show of photos and Bluetooth connectivity for playing your own music.  A microphone can also be made available.
The waterfront bar
The Waterfront Bar offers an intimate and casual space for smaller functions. Featuring lounges and armchairs for cosy gatherings or tables that can be rearranged to suit your requirements. 
The fireplace creates a warm atmosphere during colder months, while the air-con  makes a hot summer's day cool. This area has a bar and large doors that open onto our Beer Garden.
The Beer Garden
The Beer Garden is a great spot with views overlooking the inlet onto the city skyline.  It's ideal for a Friday evening unwind,  Saturday night starter or a Sunday Sundowner.
The Beer Garden is just a short walk to the bar for your drinks and meals. It offers small and large tables that can be configured to suit the number of guests.
This area has designated smoking and non-smoking sections and easy access to  toilet facilities.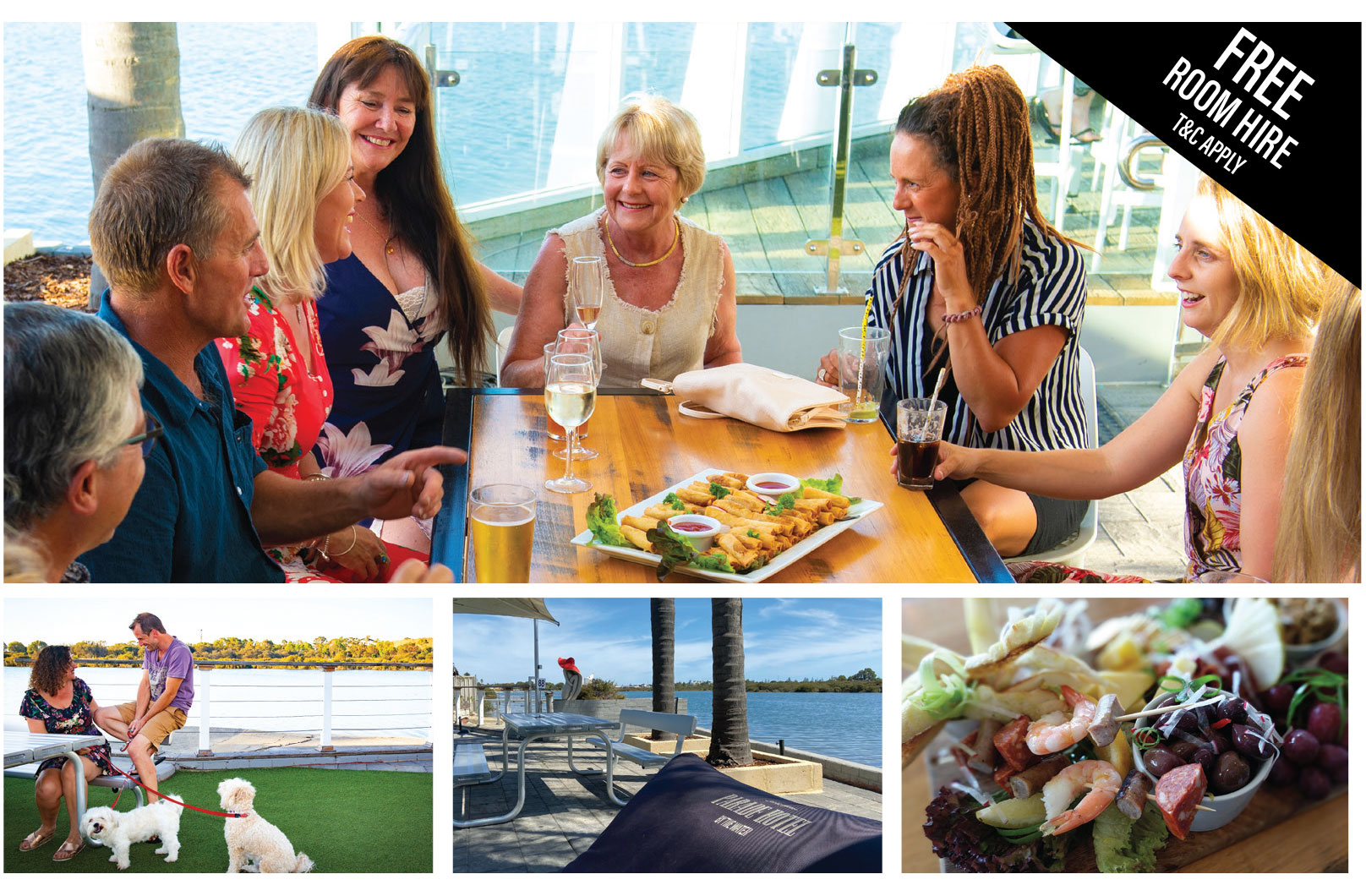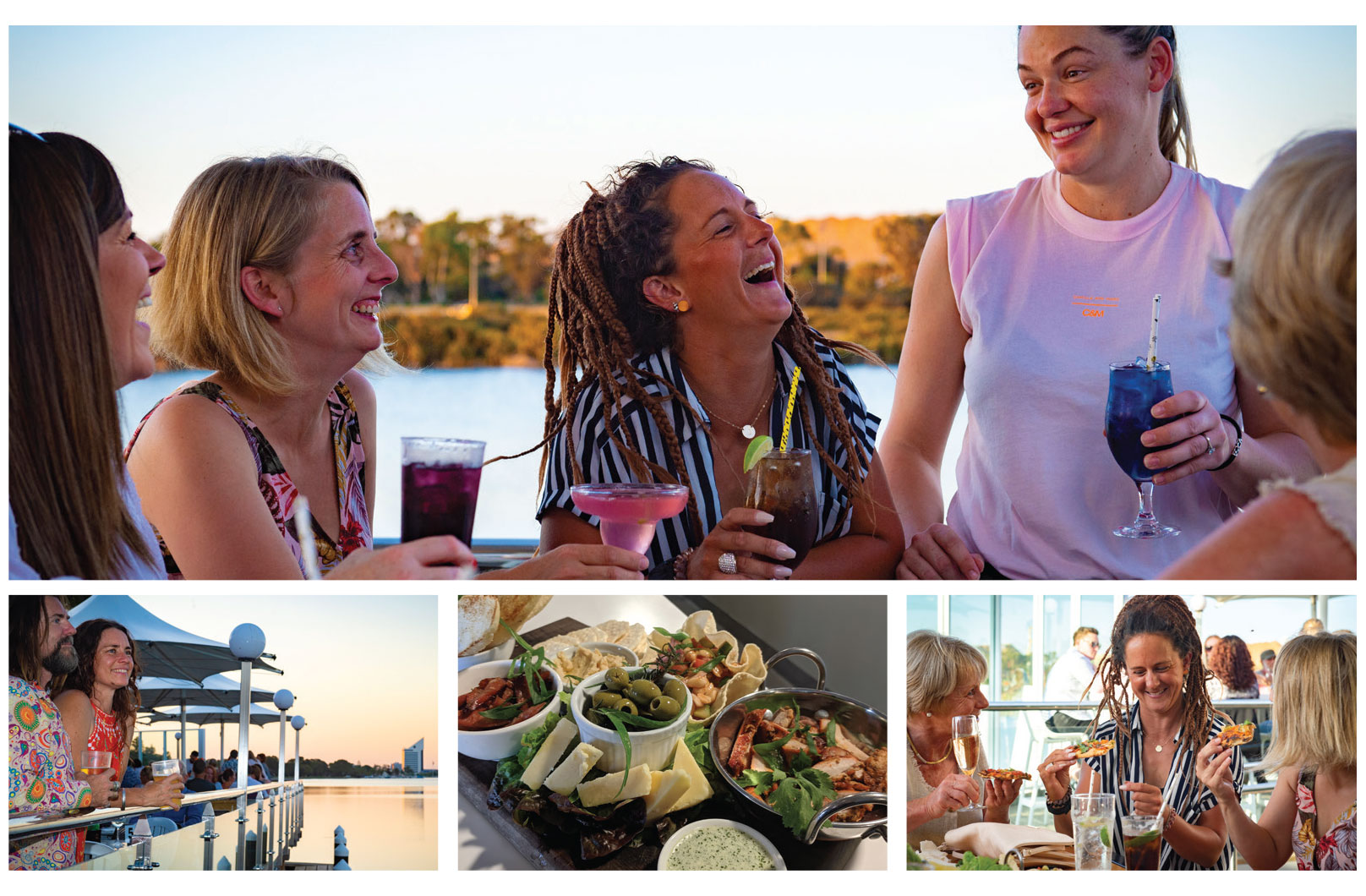 The Deck
Protected from the south westerly winds and showcasing amazing views, the Deck is an ideal spot for enjoying a Sundowner, farewells, or team gathering.
Adjacent to the restaurant, the Deck area is just a few steps from the bar for ordering the drinks and meals. It can accommodate tables with a maximum capacity of 12.  Reservations for a private function on The Deck are not available.